Joined Christian Vegetarian Association Today
Today I joined the Christian Vegetarian Association (CVA) in the hopes of finding more like-minded people (both Christian and vegan) to socialize with. It is the only Christian based vegetarian/animal advocacy group that I have found so far and I like that they have a mission that is similar to P.E.T.A. but with Christian based morals as well.
You can visit their website to get more information about their organization as well as read their past newsletters and sermons related to Christianity and a Vegetarian/Vegan lifestyle. They also have a Yahoo! group which lists a schedule of their leafleting and tabling events.
CVA is free to join but has the following paid memberships. Paid memberships are renewed annually. If you are already a member, please use the same email for your PayPal payment that you used when you first signed up.
$25 – Silver
$35 – Gold
$50 – Platinum
$500 – Lifetime
CVA is a program of Ohio Vegetarian Advocates, a registered 501(c)3. This means all donations and paid memberships are tax-deductible. All memberships include the same benefits, you don't get anything extra for paying more. As a paying member you receive the following:
Daily e-announcement (with recipes, commentary, and inspirational thoughts)
50% discount on CVA material
If you would like to volunteer your time for CVA leafleting and tabling events, they are currently offering volunteers a t-shirt, water bottle or coffee mug, and up to a $18 donation to a nonviolent vegetarian or animal advocacy group of your choice (2 hour max) for each hour of your time volunteered. For more information on volunteering for CVA please contact:
Lorena Mucke
Coordinator
Christian Vegetarian Association
Phone (770) 633-7415
Fax (775) 796-5479
If you'd like here email, make a request using this site's contact page and I will get it to you. You can also (preferably) check the last box when you sign up for a free membership and she will get in touch with you directly.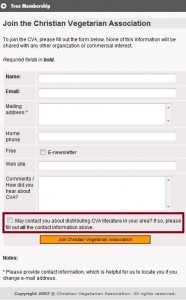 Christian Vegetarian Association (Ohio Vegetarian Advocates)
EIN: 34-1890188
Post Office Box 201791
Cleveland, Ohio 44120
(216) 283-6702
Board of Directors:
Stephen R.L. Clark, D. Phil., Fr. John Dear, S.J., Daniel Dombrosi, Ph.D., De Ronda Elliott R.N., C.S., M.T.S., Elizabeth Farians Ph.D., William Greenway, Ph.D., Rev. Frank L. and Mary Hoffman, Stephen R. Kaufman, M.D., co chair, Rev. Prof. Andrew Linzey, Ph.D., D.D., Rev. George H. Malkmus, Rev. Linda McDaniel, Stephen H. Webb, Ph.D., co chair, Richard Alan Young, Ph.D.