Excellent Free Bible Study Tool
I first learned about e-Sword in 2006 while looking for a Pocket PC version of the Bible I could read while on the go. The portable version is no longer supported, but the PC version is. I downloaded and installed e-Sword on my PC for the first time last week and it is becoming my favorite Bible study tool.
In addition to the software being free, e-Sword allows you to install up to 87 free Bible translations and many more premium (paid) ones. From the collection of free translations 24 are in English, and 3 more are in Old English. The remaining translations are in various languages from Afrikaans to Welsh and everything in between including Arabic, Chinese, Spanish, French, Italian, German and Russian. The software is a great way to compare translations as it gives you side by side reading for up to 8 translations at a time. If you know someone who doesn't read English very good , you can pull up a translation in their language when studying the Bible.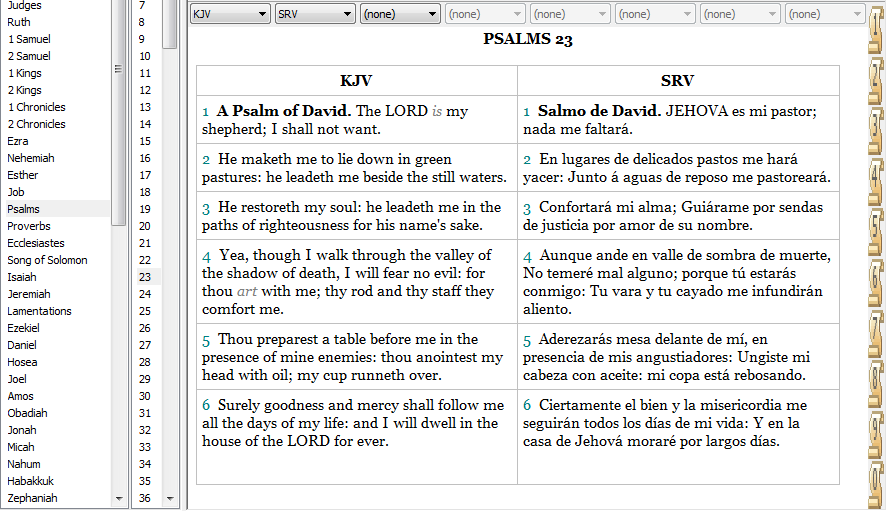 A total of 18 public domain commentaries are available to download free along with 14 dictionaries, 5 devotionals, 13 graphic libraries (e.g. maps, timelines, etc), and 25 reference books (e.g. War of the Jews, The Tortured Christ). In addition to all this free material downloadable from within the software you can download 100 free STEP books from e-Swords website and import STEP books from other software you may own such as QuickVerse, WORDsearch, and Bible Companion.
e-Sword is one of the best Bible study tools I have used, I own a couple of paid software and I feel this is on par with the paid software I have. If you are looking for a free Bible study tool with lots of additional resources please visit e-Sword's website and download your free copy.